Pet Spa & Grooming
4Pawz spa offers unmatched services. Following the highest European grooming & hygiene standards, and using some of the best products, we make dog and cat grooming at 4Pawz spa a memorable experience for you and your pet.
Grooming... the way it should be
The 4Pawz Pet Spa
This is not just a grooming station! The services provided go beyond haircuts and baths. 4Pawz spa is a high standard, full care center for dogs and cats that embellishes your pets in a unique experience for you and them.
Hair cut, shave, bath, nail trimming & filing, ear cleaning, teeth brushing, eye cleaning, deshedding, dematting and much more.
Everything is done to absolute perfection at the 4Pawz spa.
4Pawz spa has the first dog & cat jacuzzi tub in Kuwait. Let your pet enjoy a hydrotherapy session benefiting from the deep cleaning, skin soothing, and joint & muscle relaxing.
Especially beneficial for dogs & cats with joint pain & skin conditions.
---
Puppies should be introduced to grooming properly as this sets the stage for how they respond to being groomed for the rest of their lives, making it a pleasant and joyful experience every time.
This 3 session package ensures your pup will love his groomings.
Let your dog or cat enjoy our signature blueberry facial treatment. They will love the feeling, and you will love the difference it makes to your pet's face.
4Pawz is the first pet spa in Kuwait to offer dog & cat facial service.
---
Massage is an intentional touch, given with an attitude of respect and love.
Our 15 to 30 minute massage sessions are highly beneficial for relaxing, managing pain, accelerating the healing process after an injury or surgery, increasing range of motion in the joints as well muscle tone, easing the effects of aging & reducing emotional problems due to trauma, anxiety or fear.
Different techniques are used by our professional pet masseuse depending on your dog's need.

Stress & anxiety relief, arthritis & pain recovery, or injury rehabilitation technique are among the most common techniques.
---
Join our Loyalty Program
No cards, no hassles.. Our system will automatically count your points & prints it on your receipt every time so you can keep track as well.
You get KD 10 discount on all Spa services for every 30 points, that's KD 10 back for every KD 30 you spend!! it just couldn't be better..
Book an appointment today
Relax & Enjoy
Don't just stand there and watch your loved one being groomed...
Step into our Snug lounge while your pet is being groomed, treat yourself with a cup of fresh coffee, relax on the couch, kick back and watch you pet being groomed live through our lounge big screen.
And while you're at it, enjoy the free Wi-Fi, read a dog or cat book, browse through the interesting items we carry, enjoy the atmosphere and chill.

---
No more waiting for grooming...
---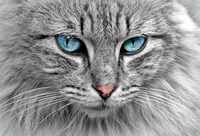 There is much more to dog & cat grooming than shaving and bathing.
At 4Pawz, we are absolutely aware of this, and therefore, we differentiate ourselves from the rest by committing ourselves to the following:

We have professionally built the spa with the highest standard requirements in mind, from ventilation and air circulation, to the anti-slip tiles, all the way through hygienic requirements, lighting, built-in holding crates, equipment layout, electrical hazards, water & waste drainage, first aid kits, and pet handling. We have consulted the experts, and aimed for perfection.
Our spa is as safe and professional as it can be, enabling you and your pet to enjoy a remarkable, fun grooming experience.
Professional tools and equipment:

We equipped our spa with state of the art tools & equipment, they all come from our reputable European partners. All tools used in the process are specifically made for pet grooming, and we spared no expense in bring in the full range to provide any required service in a professional manner.
Our equipment is among the best in the world, all tables and baths can be automatically lowered to minimum heights to make your pet's journey into and out of the equipment as easy and safe as possible.
Grooming procedure to European standards:
Every dog and cat walking into our spa will undergo a preparation and grooming process that has been carefully developed inline with the highest European standards. After initial measuring, your pet will be examined for skin, coat or other problems before commencing grooming. We try to make the grooming process as much fun for the dog or cat by taking our time in familiarizing the pet with the equipment and process.
Grooming should be a pleasant experience for your pet, and we try our best to do so. This means that grooming might take a little longer than what you're used to, that is only because we like to treat each pet according to their needs.
Our experienced groomers are officially certified, and we provide them with additional training to ensure they are up to standard. We make sure that they can undertake any type of dog and cat, and that they will do an excellent job every single time.
Hygienic Standards:
We strictly adhere to the Standards of Care, Safety and Sanitation For Professional Pet Groomers and Stylists as set by the World Pet Association. We understand that a lot of dog and cat skin diseases are transmitted in grooming stations, and therefore we make sure we follow strict hygienic procedures using only material and detergents that are pet friendly and specifically made for cleaning pet equipment and tools.
Scissors, sheers, clippers, combs, and all other tools are cleaned and professionally sanitized after every use, eliminating all possibilities of transmitting skin or coat diseases.
All towels are professionally dry cleaned and packed individually to ensure flawless hygiene.
Shampoos, conditioners and other products:
Bathing a dog or cat entails a double wash (shampoo & conditioner). Applying a conditioner after shampooing is extremely important to the coat to keep it healthy, shiny and soft.
Our expert groomer will suggest a range of shampoos and conditioners that suit your pet's skin & coat requirements. We carry a wide variety of top brand shampoos & conditioners for the different types of dogs and cats.
All used consumables such as cottons, eye and ear cleaners, toothbrushes & paste, etc, are all made for pet care by our European and US partners.
---